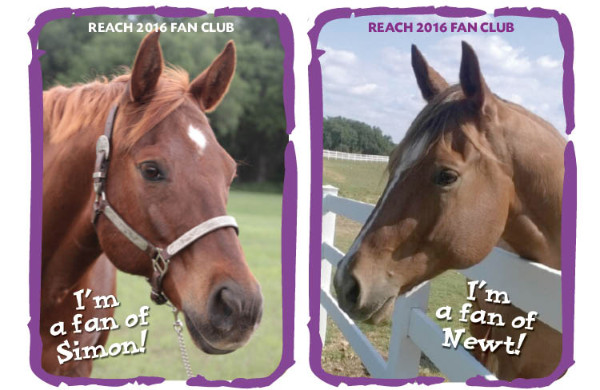 Pick your favorite horse and join the REACH Fan Club! Become a partner in the REACH mission!
Your membership in the 2016 REACH Fan Club enables us to provide rider scholarships and programs, support our horses, and continue to offer equine-assisted services to a wide variety of riders and their families.
It's easy to become a member of the 2016 REACH Fan Club! Simply choose the membership level you prefer, your favorite horse or pony, t-shirt color and size.
2016 REACH Fan Club
Membership Levels and Gifts
HAFLINGER PONY $60 - Letter and photo of horse
QUARTER HORSE $120 - Letter and photo of horse • Custom Fan Club T-shirt
PERCHERON $180 - Letter and photo of horse • Custom Fan Club T-shirt • Ticket to Annual Dinner or Greet & Groom with your horse